or The Revenge of the Zombie Flange --Wieners---and Room 1703.
We hung out until we ran back into Billy again and then we headed to a room party Or Tiki Room Crawl as the Tiki folks call it—where they had some green drink called Zombie Flange drink dripping out of a zombie head… You really don't want to know the story behind the name trust me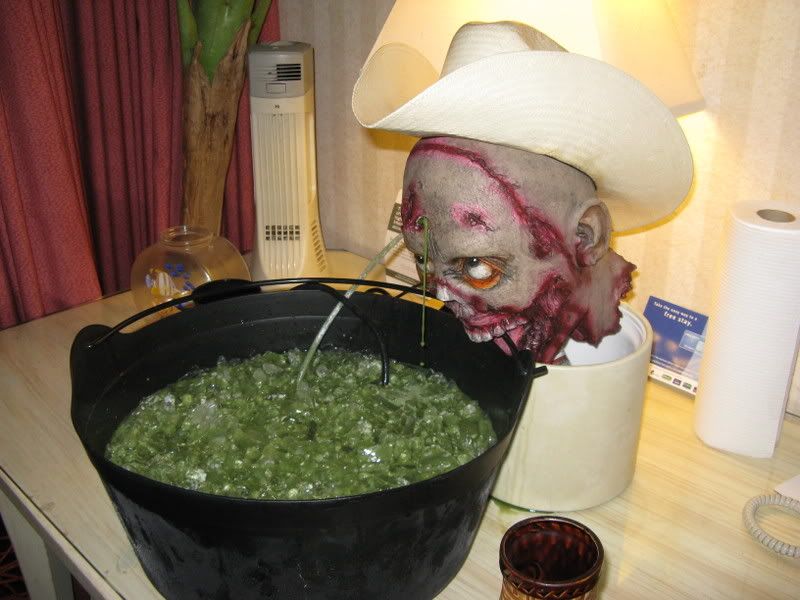 Meet some new people and hung out with Tiki Travis from the Austrailia and Billy the Crud who we actually meet about a month earlier at the Tower Bar for the Surf Bands..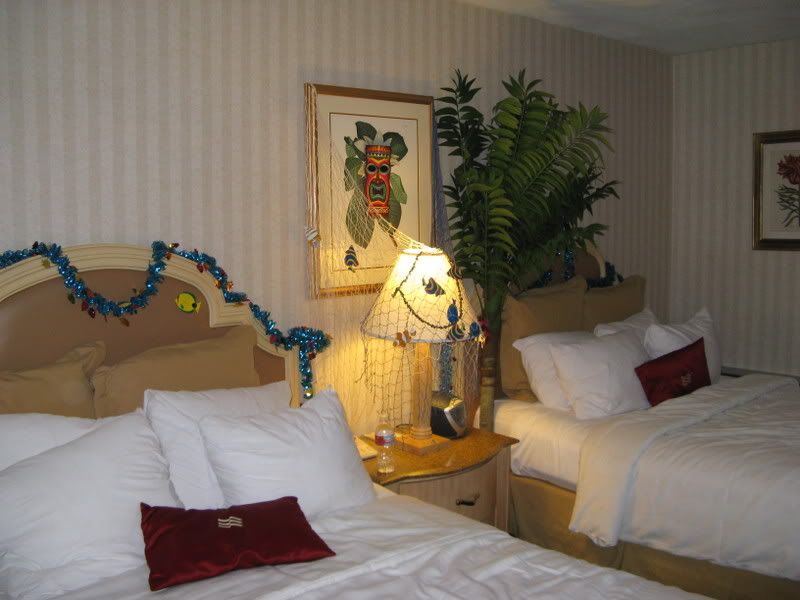 The Flange and wiener jokes were non-stop. A Michael Scott field day... of "that's what she saids.."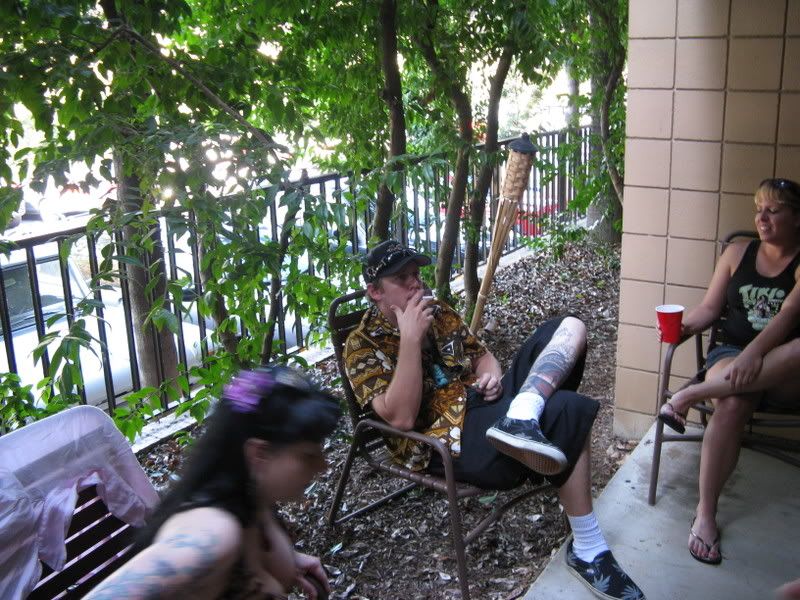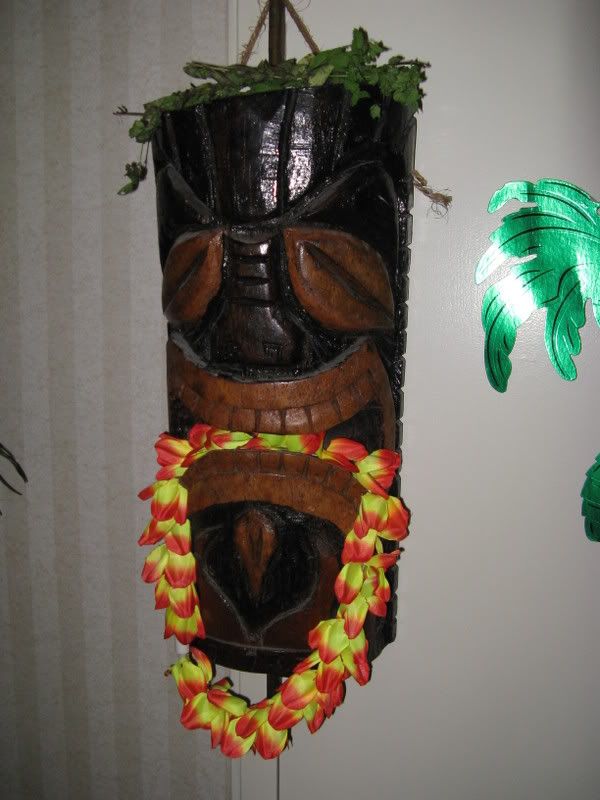 Filled with flange and laughs we went in search for a party higher up in the Hotel…Following the sounds of a live band like dolphins using sonar….After a few wrong floors we found it...and had a blast…. A band from Vegas called The Swank Bastards jamming out Black Sabbath Surf style….Kicked ass ----and the half naked punker Hula hoop dancer didn't hurt either
These are the pictures that I can show because it got wilder.......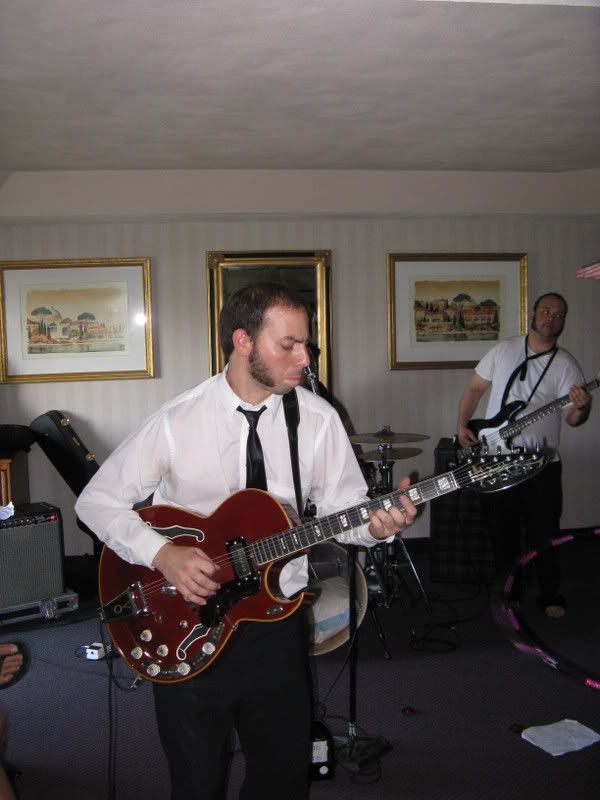 Travis posing Gangster style outside the next party
…

.Eric full of flange fell asleep by the time she got topless (sans pasties) he was Zombified by the Flange….So the Crawl was a success…Went to the room for a bit…
Then headed to grab dinner at the café. While the Maika Gents played on the main stage… We finished in time to see the Zombie Costume contest.. It was Zombie Night after all.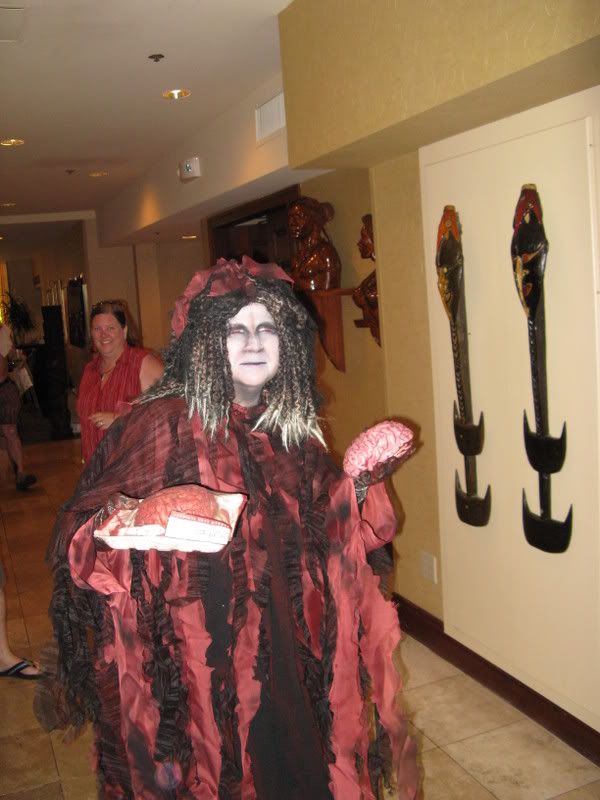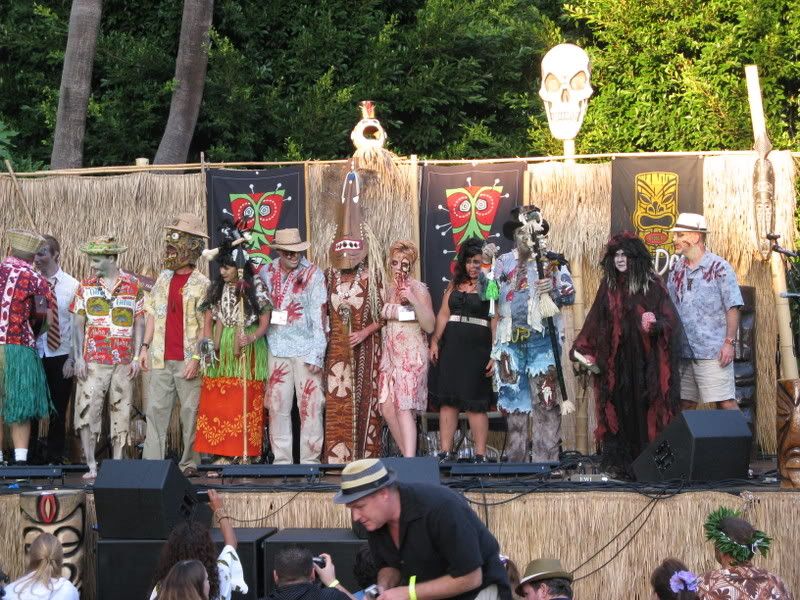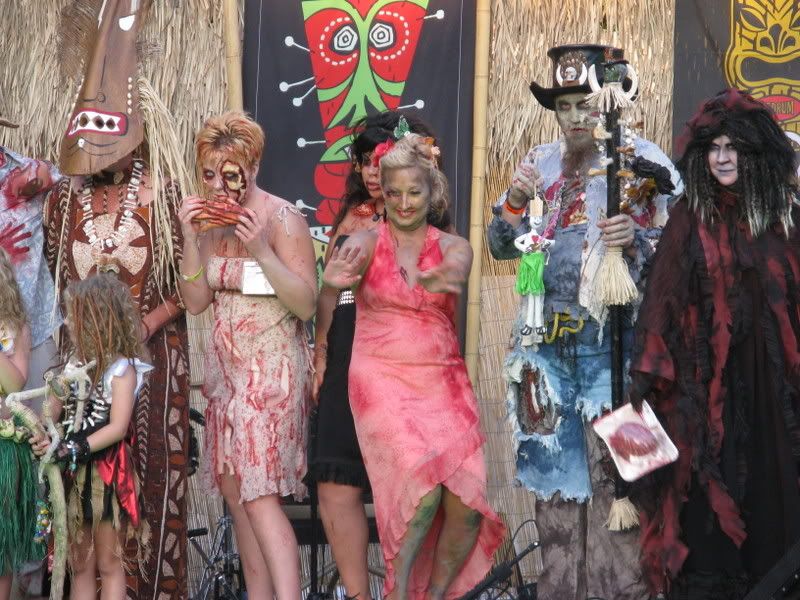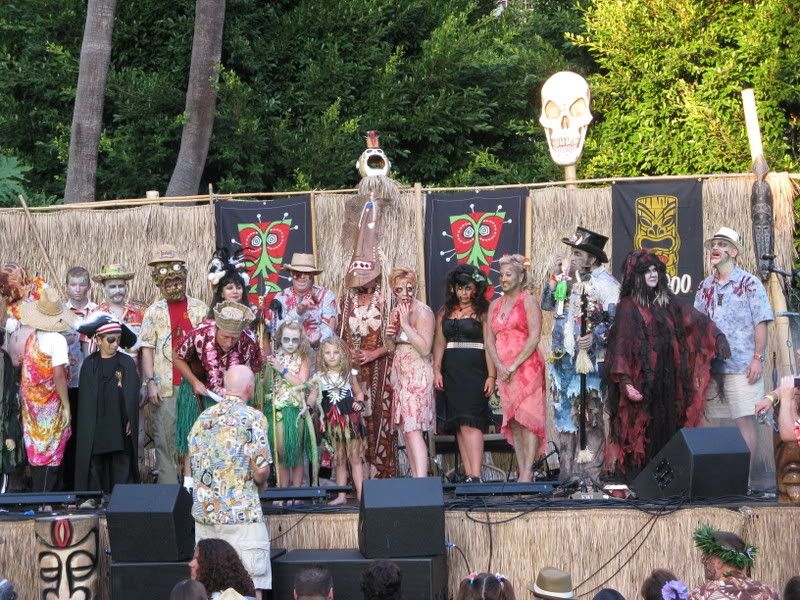 Let's play Spot the drunk guy in the Hawaiian shirt game
A lovely Zombie Couple how cute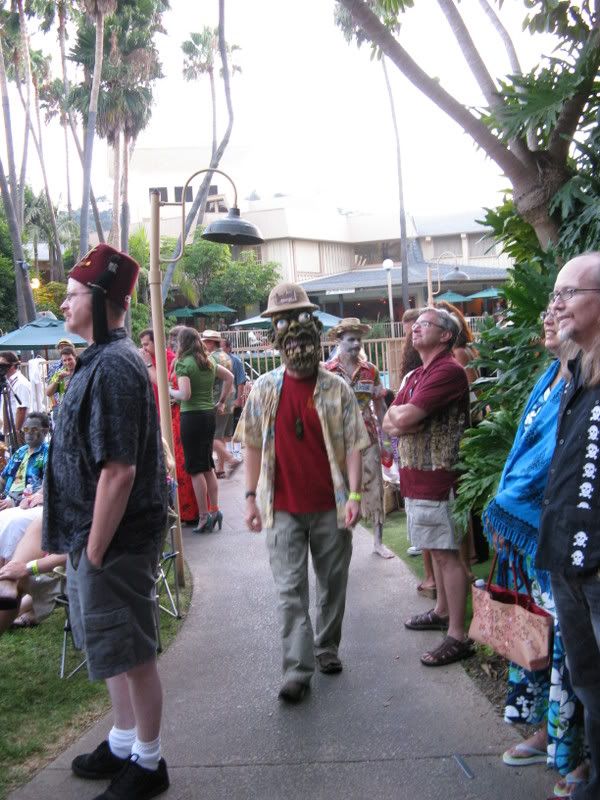 Eric headed back up to the room for a nap (Silly Zombie) and missed some good stuff…such as the Creepy Creeps great Spooky Surf music with Go Go Dancers Great Stuff.

.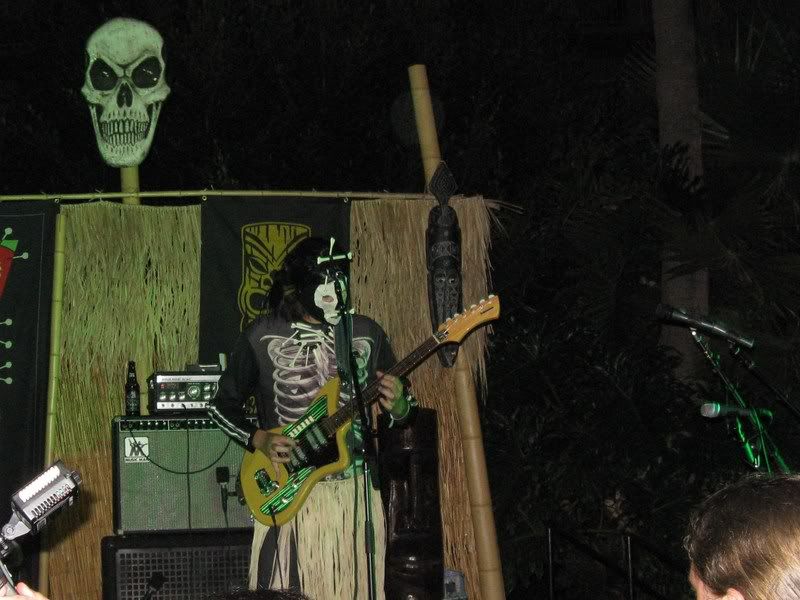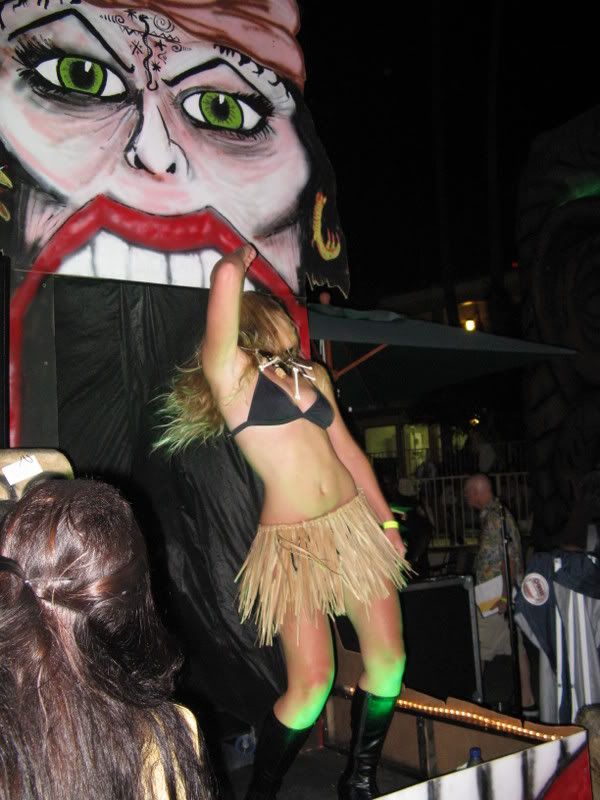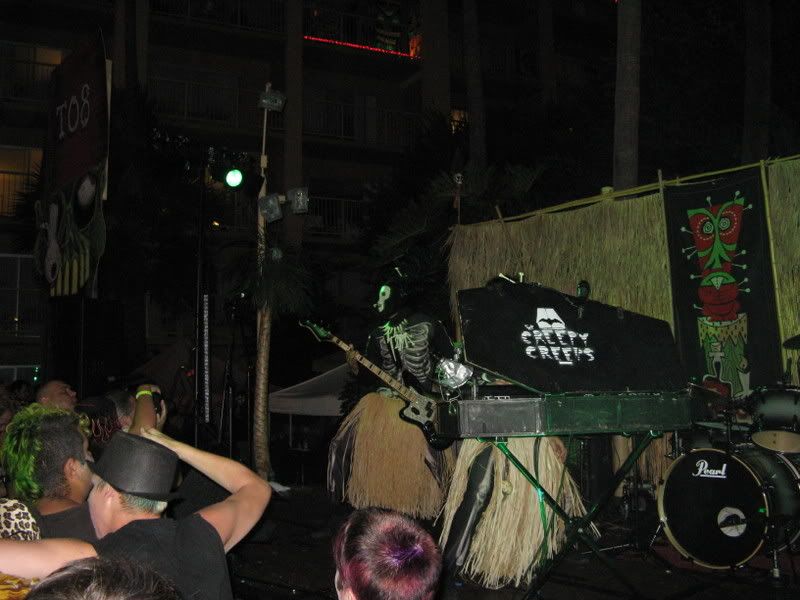 After the Creepy Creeps and enduring more of King Kukulele and his bad jokes or bit about now I'll play some blah blah blah-----"Oh I don't know that song"
There was a Zombie sketch that was ok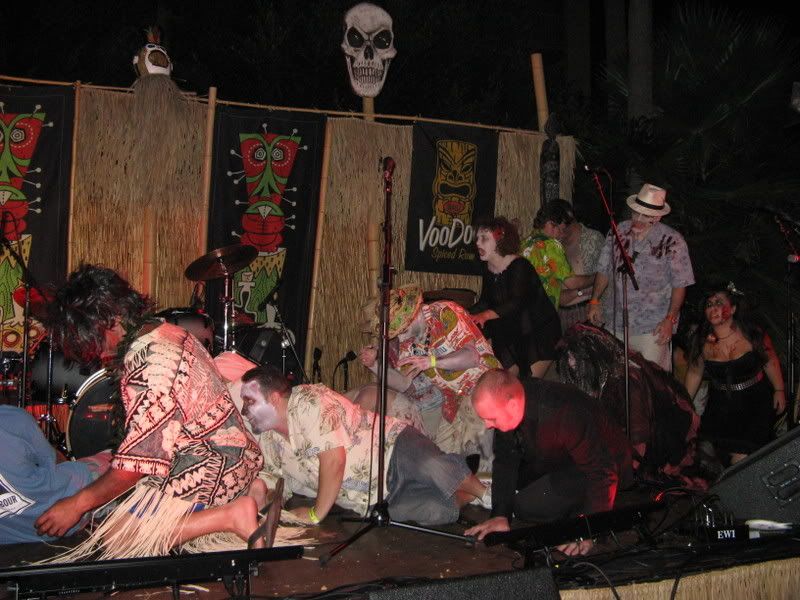 The party got going again with the Zombie Hula Performance by the sexy Lady Borgia… I caught one of her flower lays ---(I knew I would get laid at Tiki Fest—just not what I had in mind)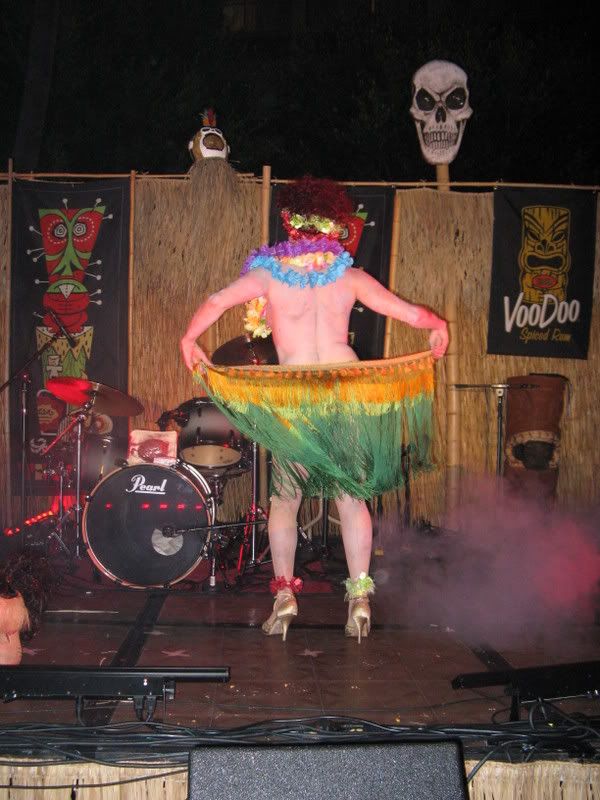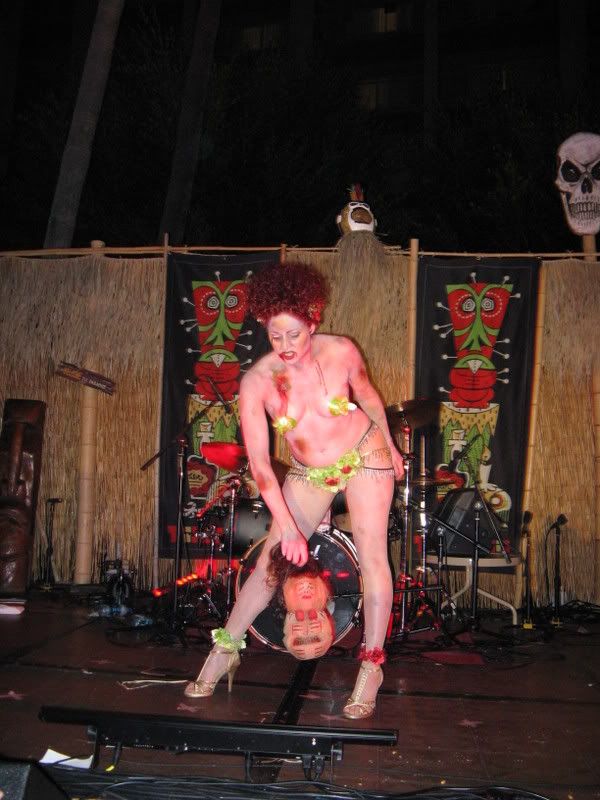 Saw several more Burlesque performances….
Talked briefly with Lady Borgia after the show and got a myspace Default pic I like to call " Zombies are ripping my to shreds" (old Haunted Mansion inside joke)
Of course if all Zombies were as sexy as Lady Borgia I'd let them have there way with me…While dancing with her in the audience briefly she told me something that she was performing later somewhere. She gave me a card which I couldn't read because it was –dark for some reason I thought it was somewhere off property ----and then found out the next morning when I could read it that it was for a private party thrown by the Burlesque company (doh—typical Brad stupid moment) Believe me I sat around on Sunday morning wanting to smash my head in with a brick for a couple of hours..

Then saw the Ghastly Ones ---The Zombie Eric woke up and joined in….
By this time I was in full party mode—Enjoying the band and the impromptu Go Go Dancing by the hula hoop girl that was topless earlier...
Which after peer pressure from Tiki Travis I joined in…and Go Go danced with --(while sober mind you) of course there are no pictures of that that i have....Anyone????
Travis getting his Tiki on
At least someone got a little head tonight (bad joke)
… Eric said that was crazy… The Ghastly ones ended---then more Burlesque Meghan Mayhem with tassels afire…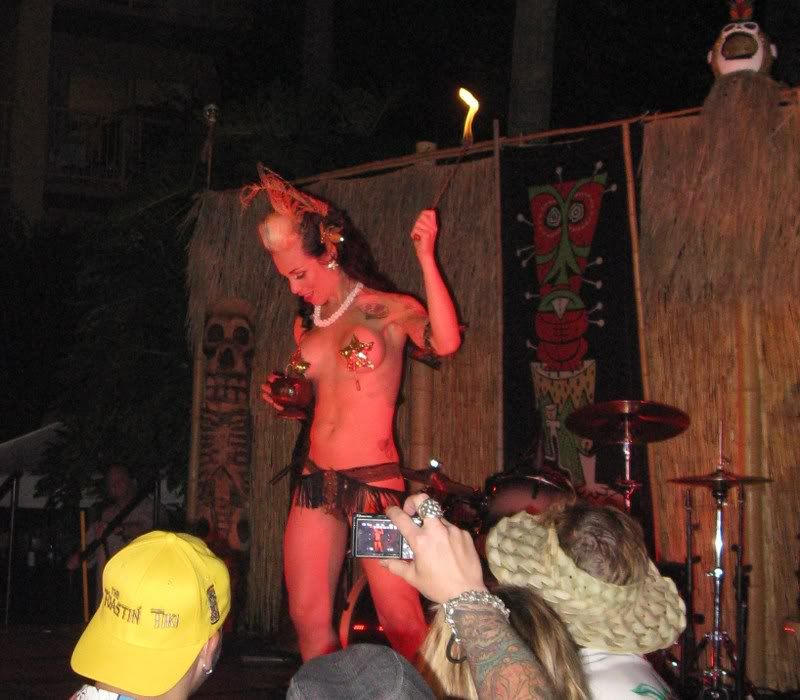 Not knowing where to go once the show ended… We should have found a party but instead ended up going and watching some Zombie movie and Elvis movie trailers leading up to "I eat your skin" Zombie movie which we were too tired to watch so we baled ---then half heartedly looked for a room party….before hanging out in the room then deciding lets go to the bar for ahwhile…. All the while having a party invite unknowingly in my pocket….

Like some kid with a golden ticket to Willa Wonka's Chocolate Factory and not realizing it until the tour of the chocolate factory was over….. (Gee stupid Brad----it would have been an even better night at a Burlesque Suite

party

--instead we cracked jokes about Spam in the bar) "I DON't LIKE SPAM" I yelled to laughter from Eric… Hey he looked at the card too when we were at the room and didn't notice the room party either…