Continuing with the Embrace the Beach theme…Started the day out with a beach run to 62nd place on the Peninsula and back… (Number 2 favorite sound in the World) The shore break lapping against the beach….. (Number 1 favorite sound is the noise a cold Pepsi can makes when it opens number 3 the sound of the Train at Disneyland) I just wish that the sound of the waves were strong enough to shut up my overactive brain….I rarely get a moments rest from my mind especially on a run….TV used to do the trick ---of numbing my mind for awhile ….Like a dumbification IV strapped to my arm—but unfortunately with the lack of good shows on during the summer---I mean every time I check my TV guide it is something like "Who wants to Marry my dog" or "Are you smarter than a Can of Beans" Unfortunately right now the Brain numbification candy that is TV is hardly doing the trick as the reality programming has hit (Idiocracy Level)
Ok I seem to have drifting like a piece of wayward Seaweed –really far away from the subject which was supposed to be the beach so lets just skip the beach run and go to the main topic …Surf Bands……(Embrace the Beach)

Another tangent (
Stick in there ---There will be pictures I promise)

One of the good things about being single (after so many years of marriage) is I really have the freedom to just run off and go do whatever I feel like whenever I feel like…No checking with another person—seeing if they are interested --yada –yada yada….

And I have really embraced that concept whether it is doing stuff solo or with friends—meeting cool and interesting new people to do fun stuff… This includes over the last year. The Star Wars Convention 2007—Comic Con 2007 (for the first time ever –heading down there again this week)—Western Festival --Erotica 2008 –Vegas guys trip (yeah that wouldn't have happened during my marriage) Meeting people I barely new out at Disneyland that are now several of my really good friends.. --Stagecouch Festival to see Eagles/Fogarty –Taste of Newport to see (Huey Lewis) that one was solo—and the next day to see Devo with a friend… Johnny Vatos Boingo Tribute and Kids in the Hall live (both things I went solo to) ----Now when I see something that looks like it could be fun---I just do it….Buy the tickets before even asking if any friends want to go so that I don't miss out.. And this was another example of that….I got an invite on my Pineappleman page for The Psycho Beach Party event…..Come down to see Surf Bands –Tiki Carving Barbeque in San Diego…. And with my freedom I just decided ---Sure why the hell not… (Hell when I went to College at San Diego State I used to make this weekend drive practically every other week to hang out with Long Beach friends and perform in WASH shows….So why not..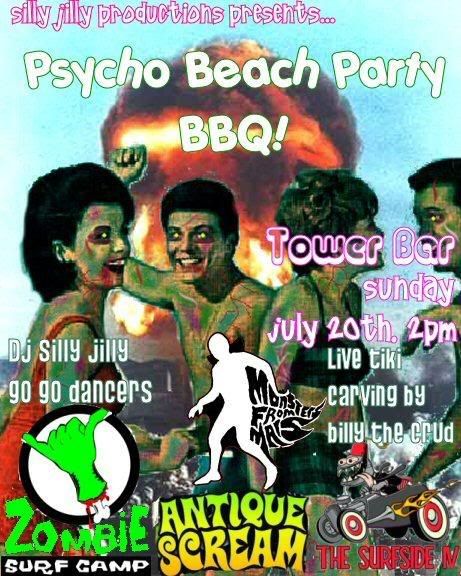 Luckily END was down for idea (No other takers----hey I offered several times for others to join in the fun) Making the naive mistake that things would actually start on the time on the flyer (I should know better—We headed down to San Diego) Stopped at a hole in the wall and typical of San Diego great Mexican food place—for some Rolled Tacos --(or taquitos as we Northern's in Orange County call them) It was a Taco Fiesta Baby!!!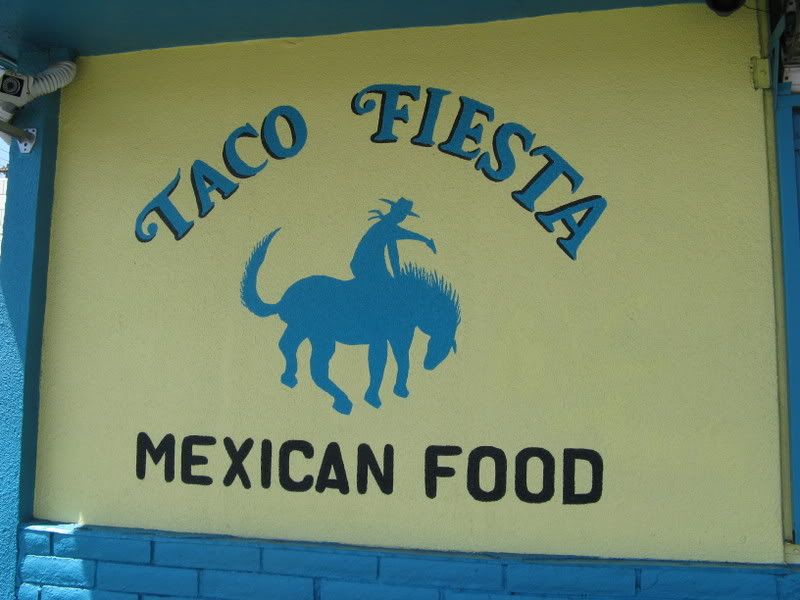 Um San Diego Mexican Food!!!!!
Then we continued the search for the Historic Tower Bar….Of course there was no Tower anymore—so we almost missed it completely… (Story is the Tower was falling over and was removed and the city is making a new tower to put back on top of it)
Something else was also missing -----A toilet seat --The irony was they had a tiolet seat hanging on the wall in the bar area--which i wanted to install in the bathroom...Some Tweaker might fall in at any moment


I was thinking ok this will be interesting—as we ordered some drinks to kill time until the bands started around 5pm….END pointed out that the place had the feel of Alex's Bar in Long Beach on a smaller scale.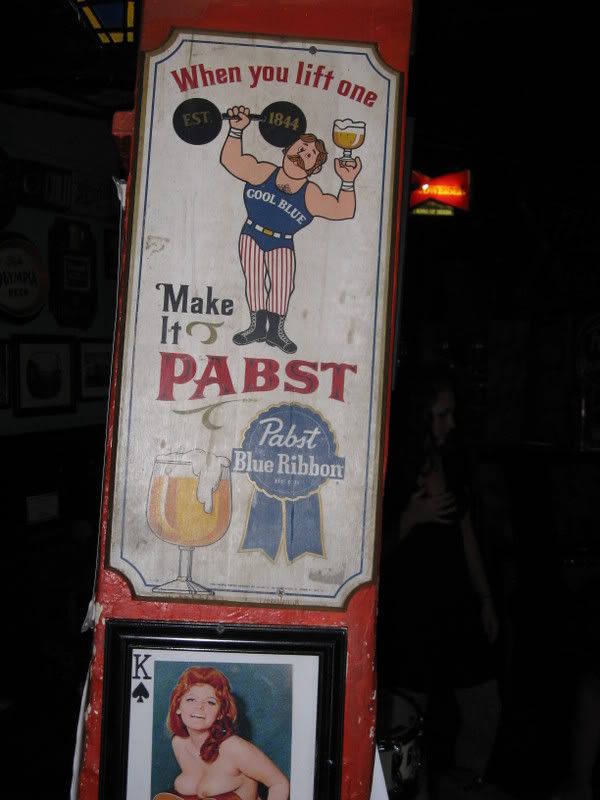 Here is link to Tower Bar
While waiting for the bands there was The Cramps playing in the bar…Tiki carving by Billy the Crud outside and if you read my blogs ---you know I love Tikis…Thinking of trying to make one myself out of the Apricot Tree stump.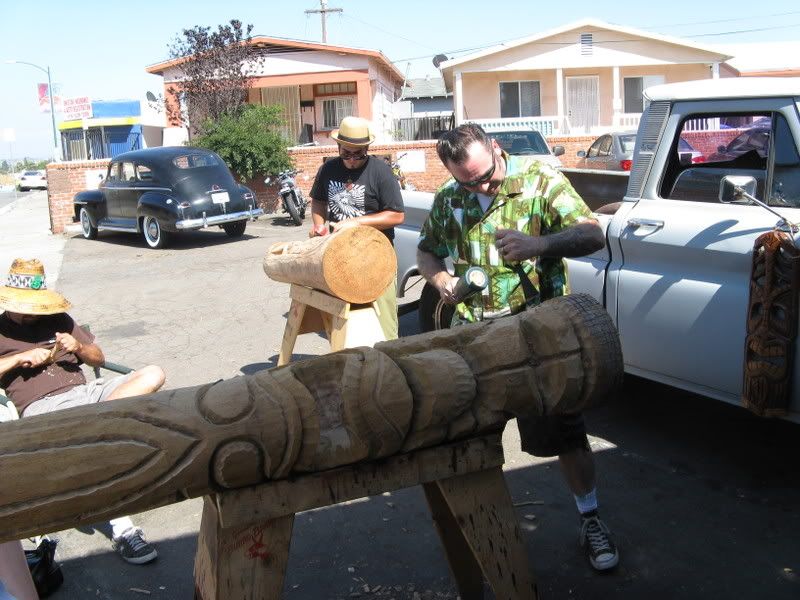 More Tikis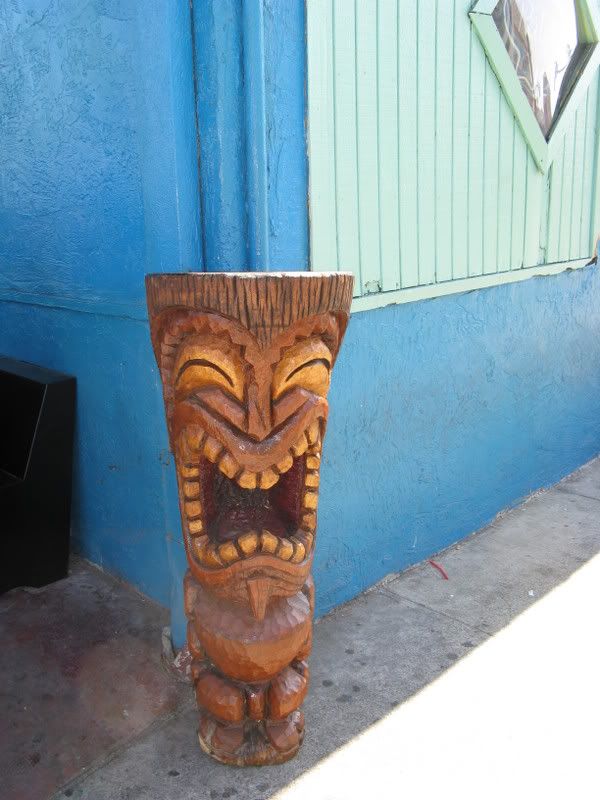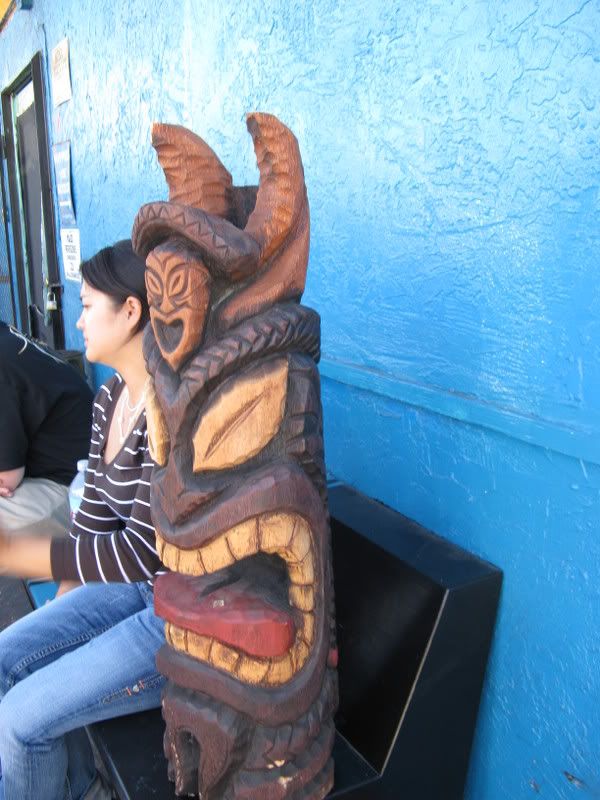 We hung out and enjoyed

Antique Scream

a band from Arizona… Here are a few pictures of them they were more than surf…. Here is link to there page. I liked the energy they put out there..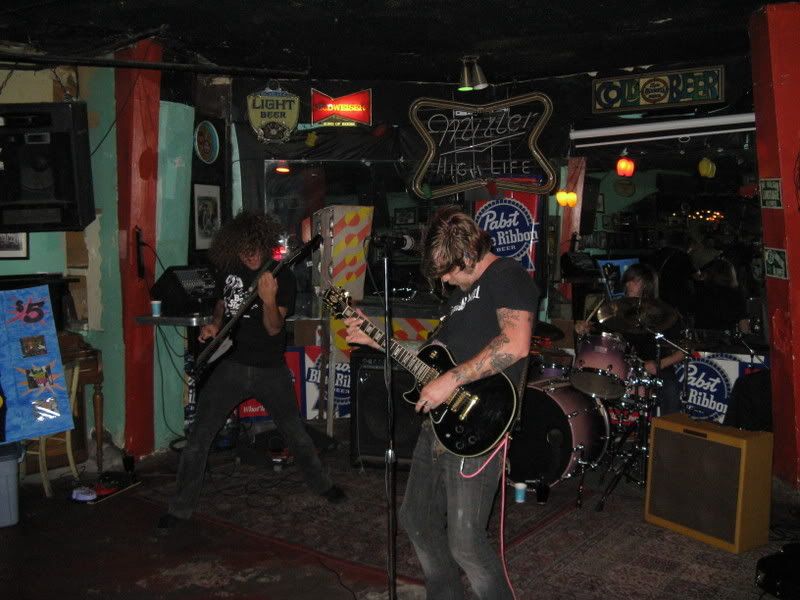 Talked with a cool guy from Australia Travis that will be going to Tiki Oasis in August---We asked for the scoop of what to except from another of my random (That sounds cool I'm booking a room buying tickets and then seeing if anyone wants to go events) And he said that it is really wild and fun—SO I'm so looking forward to my first ever Tiki Oasis…..Also meet and talked briefly with Lady Borgia a stunning Redhead and her friends…She coincidentally will be at Comic Con and Tiki Oasis—and had flyers for a cool post Comic Con Burlesque show called FishnetfolliesZolt will be with us so END can't go) -maybe I'll convince his brother to go with. Talk about a nerds dream –Comic con ---plus a burlesque show (again something I've never seen before)
Posing with the beautiful Lady Borgia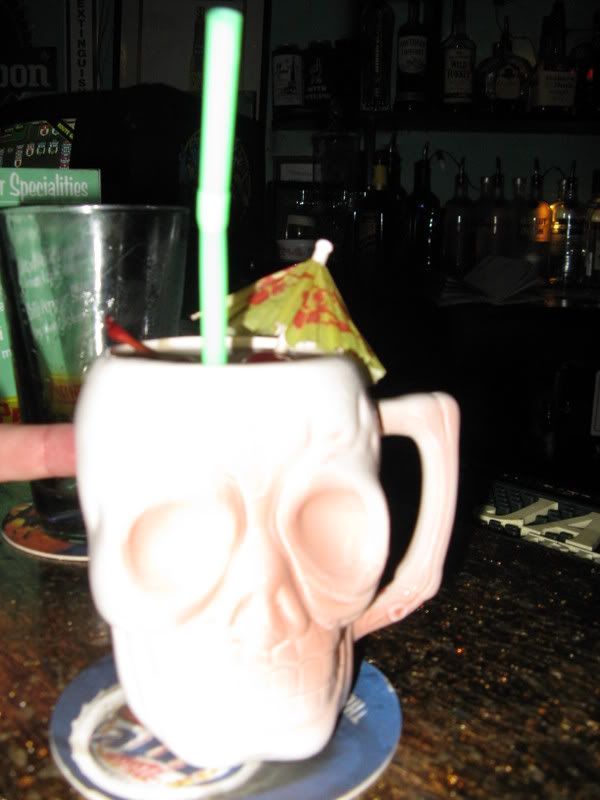 Lady Borgia and Billy The Crud

A minor Disagreement
Next up was

Monsters from Mars
Melodramatic Popular Song / Experimental / Surf band
—which I was looking forward to after hearing their cool Surf cover of Toxic by Britney Spears----(They had a few WASH like restarts to a couple of songs) but I give them credit for trying to cover to great songs CCR's (Wallking on the water) and The B'52's (Rock Lobster)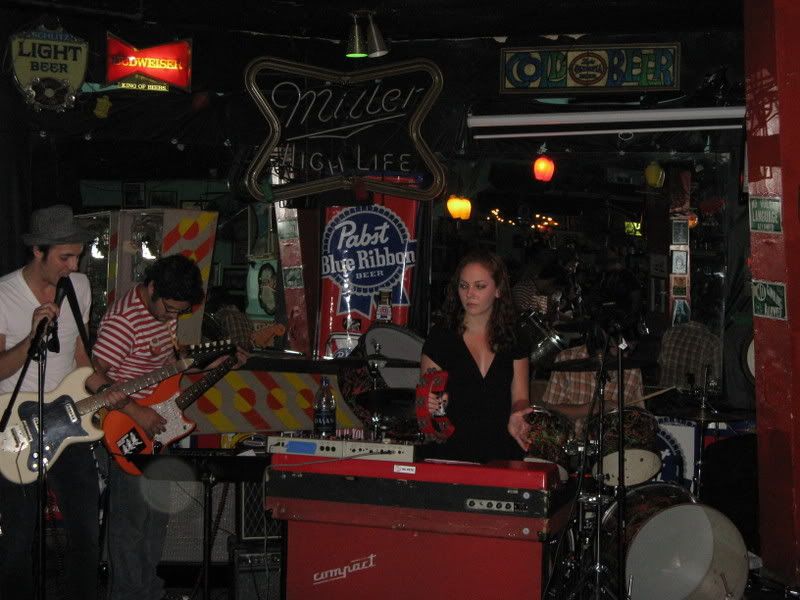 Then Billy wheeled in some Tikis and the Fez wearing

Surfside IV

hit the stage with Go-Go dancers----Surf Music and Go-go dancers equals fun and here is the link to their page


I Love the Look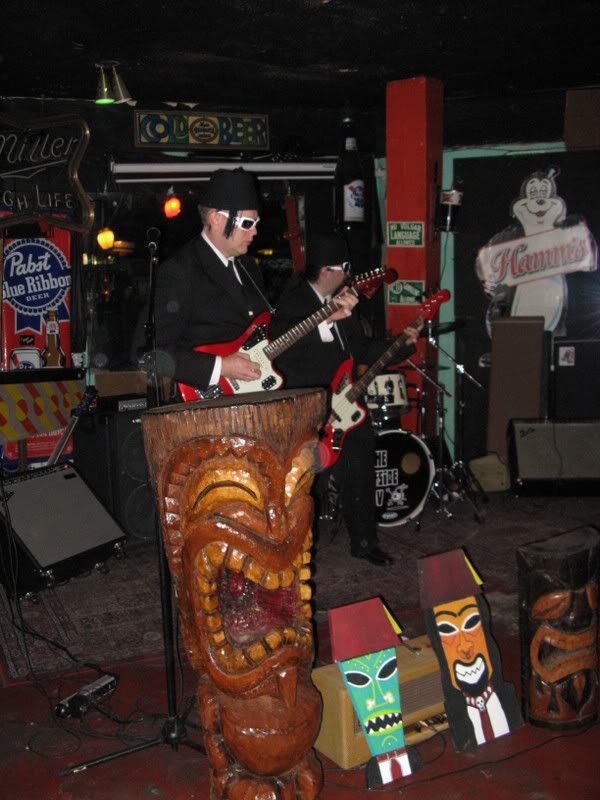 "That is what i'm talking about Willis"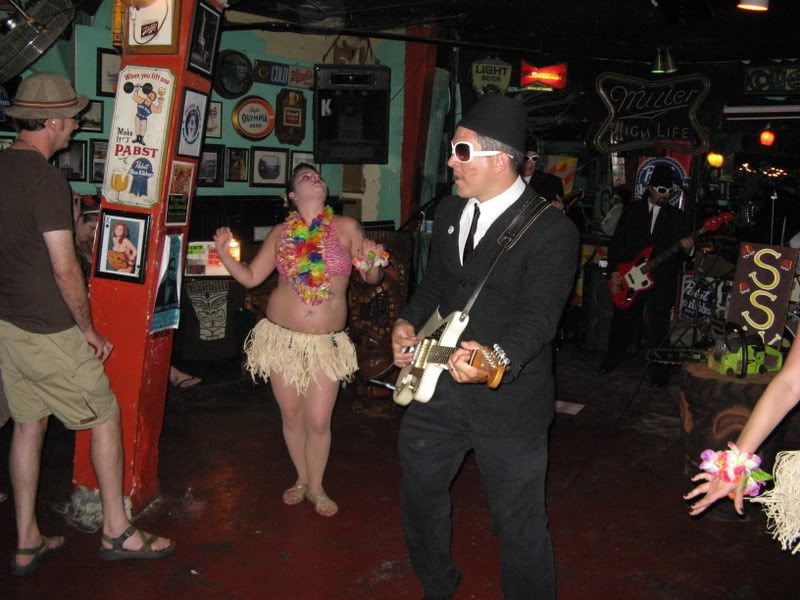 I turn away for a second and END is Bodysurfing on a chair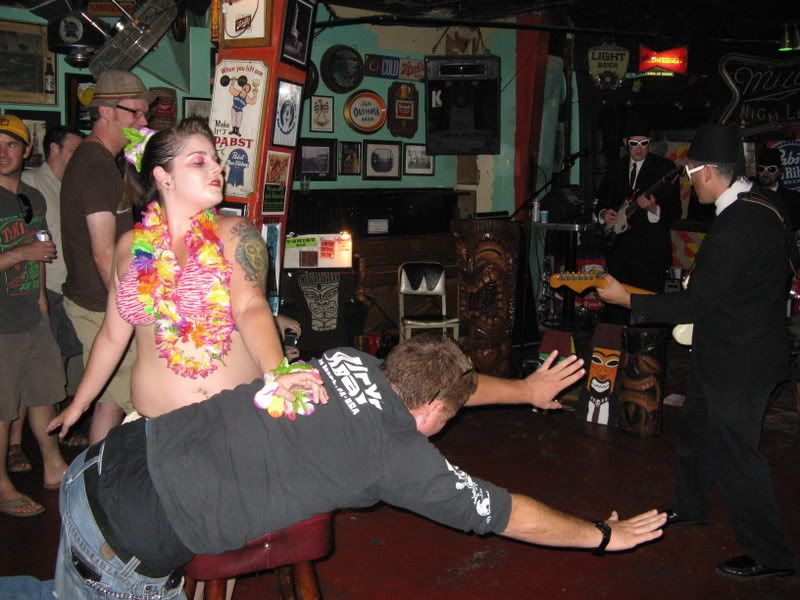 Unfortunately had to leave before the final band Surf Camp Zombies---I give you their link to check them out anyway
-But the whole working the next morning and having an 1 ½ drive thing….On the way back after END feel asleep and then his phone alarm started going off every 5 minutes to the sounds of "No sleep –No Sleep til Broklyn" I tried to make the best out of the situation… Since his phone was in his pocket there was no way I was going to try to turn it off….So instead I just stopped my CD everytime it came on and sang along "No Sleep til Broklyn"

END woke up after the 9th singing and we stopped at Jack in the Box near San Clemente…Where Eric ordered the weirdest item ever Mac N cheese (which were in the form of Nuggets) Keeping with the bad bathroom theme Jack in the box had papers towels all over the floor—END made a comment about it and after using the facilities myself—I came out and imitated the scene in "The Jerk" where Steve Martin walks into the Biker chicks trailer and asks where the helmet goes and she throws it on the ground and he says "Oh that's where it goes" or something like that…