(May 13th 2008)
The Great Tiki here------While checking out some of my Tiki friends from the Pineappleman page I came across a Tiki Bar in Long Beach. I used all of my Tiki Powers to urge Brad to take me to this Oasis--this Tiki Haven---and eventually he caved.
The Puka Bar

was cool and was filled with great Tiki's. Here is a pictorial look at this Tiki Themed bar. (which also lead to great ideas running through the Great Tiki's mind)
(The Great Tiki Loving the Neon Sign out front)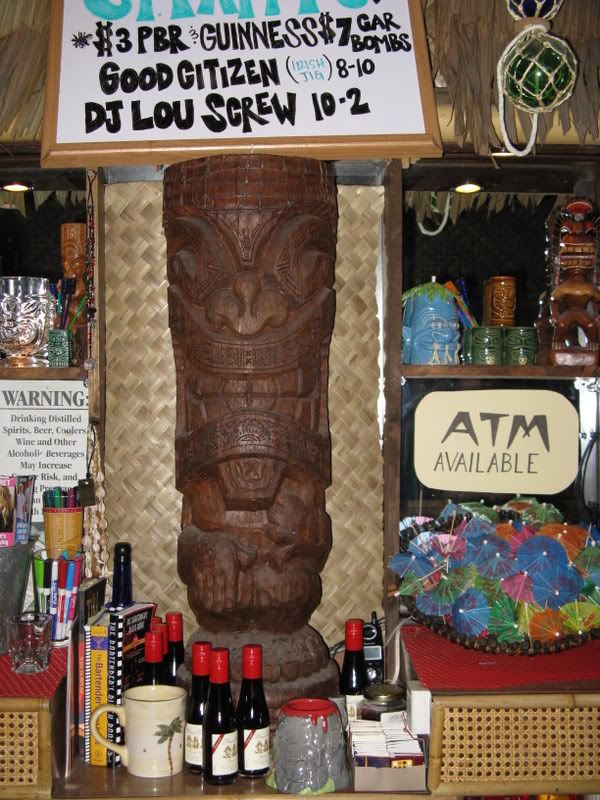 (The Tiki's protect the Booze)
Glass Tiki Mug "My Precious ---we wants the Glass Tiki Mug---we needs it"
OK this is really cool Tiki Beer Taps
"Behave or this could happen to you" 0r "the case of Shrunken Heads

"
The Great Tiki goes for a dip in the World's Strongest Mai Tai (Literally swimming after one of these)
Bart The Sharp Toothed Tiki
Robotiki (The Tiki of the Future)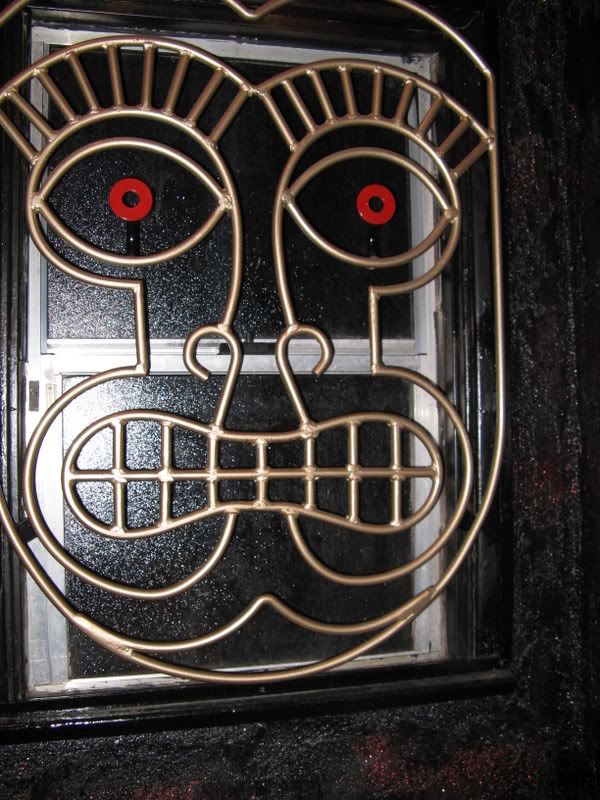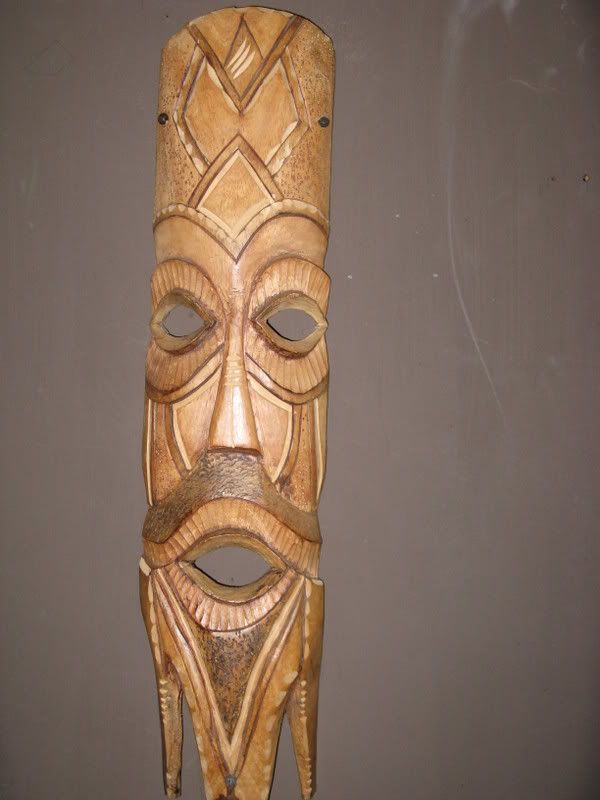 Monk The Tiki of Baldness
Screamy The Tiki (The Hangover Tiki)
I call The Big One Bitey (be careful not to cross paths with this angry Tiki)
This Tiki is such a wallflower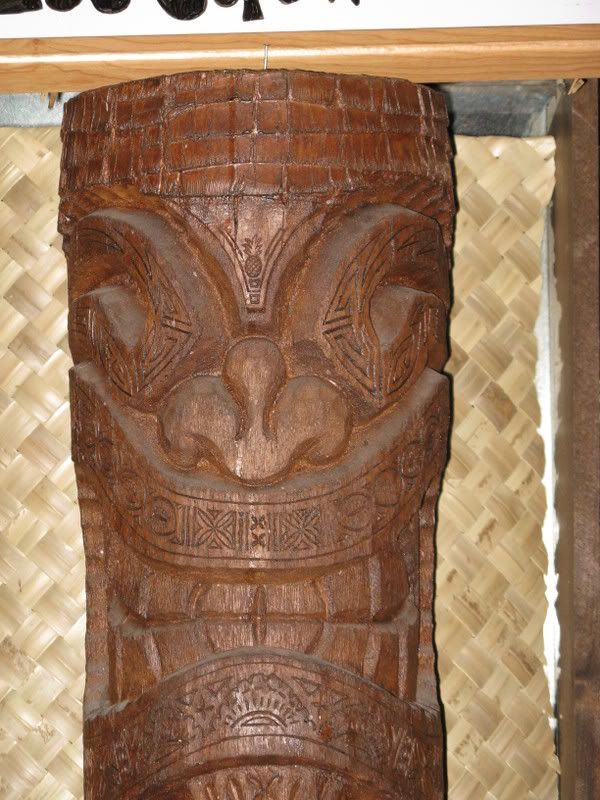 Zombie Time (The Drink) "with an umbrella just like in the magazine"
Anyway so that brings me to the idea's swirling around inside my Tiki Head.
The Pineappleman's Bar-----
and The Great Tiki Lounge
First just taking off and Pineapplizing the Puka Bar concept with a little Pineappleman flavor. I envisioned a cool little local Tiki Bar to be owned and operated by the Pineappleman.
The Pineappleman's Bar

Taking the the cool Green Girl Saloon concept of cute friendly girl bartenders in bikinis and spicing it up with a little Tiki flavor --I Envisioned a cool little Tiki Themed bar with cute Polynesian girls in Coconut bras and grass skirts as the bartenders. Karokee night would be hosted by none other than the Pineappleman --now retired from his days as an Adventurer --he settles into his later years as the owner and host of the bar. (ok simple --basically just a little Tiki bar with the Pineappleman and the cute bartenders.)
Of course once the mind starts spinning new bigger more unrealistic ideas spring to the head. And thus the little Tiki bar quickly become a huge three level Vegas night club.
Of course the Coconut bra wearing Polynesian Girl bartenders (stay of course-)-- This 3 level Tiki Themed Vegas Nightclub --would have indoor waterfalls flanking a giant Volcano that would bubble up with red light waters. There would be cozy little alcoves for hanging out with friends that would have Tiki heads on the wall that would occasionally burst into conversations with each other. There would be a giant animatronic Tiki Head on the Wall above the Volcano that would serve as head of ceremonies , DJ ..ETC....
Stealing from the Pineappleman concepts (the talking Gorillas from the songs and legends) there would be "The Shot Gorilla" (walking around giving out shots)
Once a night there would be a short 4 minute ceremony where a beautiful girl dressed as an adventurer is taken to the top of the Volcano ---Tied to poles by 2 gorillas and stripped down to her bikini and sacrificed to the Volanco for one hour of half price drinks (Kind of like a mix between the Fay Wray scene in King Kong and the Temple of Doom Mola Ram scene---The music definitely Mola Ram style)
OHHH the merchandising.......once again my fun ideas are totally wild and ridiculous --and with my lack of any art ability can't even be drawn . But still there it is the Tiki Fueled delusions of a Tiki