(Pre-Party Building a Beach in 8 Easy Steps)
The Summer of Embrace the Beach is almost over----and I'm taking it out with a bang…So there was this little Project –where me and my Best Friend and Room Renter Eric ----decided to build a Beach in the backyard –Where the old Apricot tree used to be…. "Build it and they will come" That was the idea…So after weeks of hard work , Lumberjacking—and carrying over 6,000 pounds of sand we had our Beach…. After weeks of plugging the party like a sailor in the red light district --- to little or no avail on Myspace (slackers)—the Beach Party went off and was actually a great success
--thanks to a huge influx of older faces that I just recently got acquainted with again on Facebook…It turned into a sort of mini reunion of sorts which was very cool…
But I'm getting ahead of myself…..Let's got back in Delorean for a second and look at the Preparations first…Building a Backyard beach is no walk in the sun….and we really went overboard…Brad starts getting "Great Ideas"
Several of them in fact (Oh no it is the Mola Ram debacle all over again)
I'll show Bad Shark Movies --since I'm researching them anyway
Shark Attack 2 and Hammerhead Shark Frenzy
"How about I buy some fake Eyebrows --kind of a Eugene Levy look and do a fake video taped live report from the beach talking about how wild everything is with people just standing around in the Background"
Brad "Wouldn't it be funny if I bought a Shark Outfit –covered myself in blood halfway through the party –your know because it goes with the theme and the Attack of the Land Sharks movie idea---it will be great"
And then I will go and sit in the jacuzzi so that it looks like the shark just came out of the water and attacked me (great Myspace Default pic op)
And instead of Fire Leaping we could do Jump the Shark –with drunk people … " Shark Leaping Shark Leaping -who is the next to go?"
(some Ideas happened –not as good as in the vision of course—but oh well)
Pre Party Building a Beach in 7 Easy Steps
Step one

: Buy Sand: --Buy a lot of Sand---then stare at it and then buy even more sand… I'm talking truckloads of sand here people….
At First the beach looked a more like a sandtrap
Step 2 All work and no play makes Home Something Something
After lifting –carrying and dumping car loads of sand you need to let off a little steam –Grope a cardboard cut out of Elvira and chill with a few friends.. Plus post goofy Party Flyer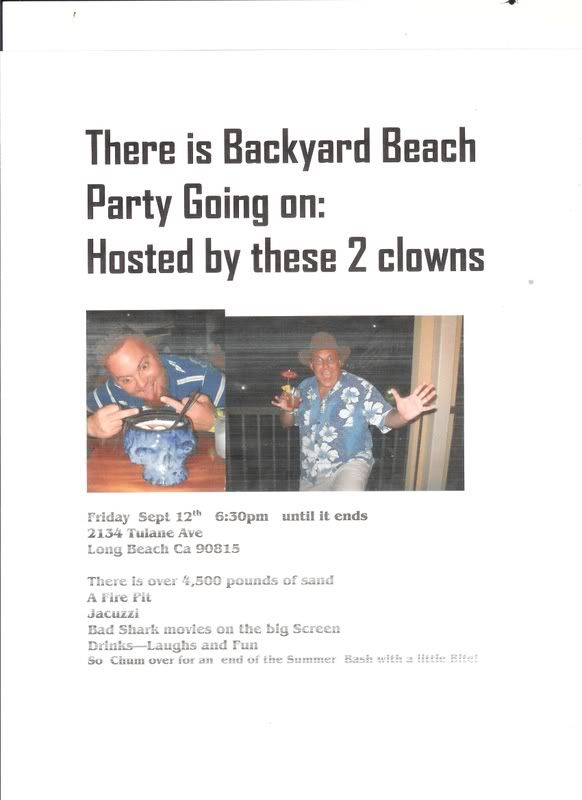 Step 3 More F---ing Sand (Are you seeing a pattern to this?)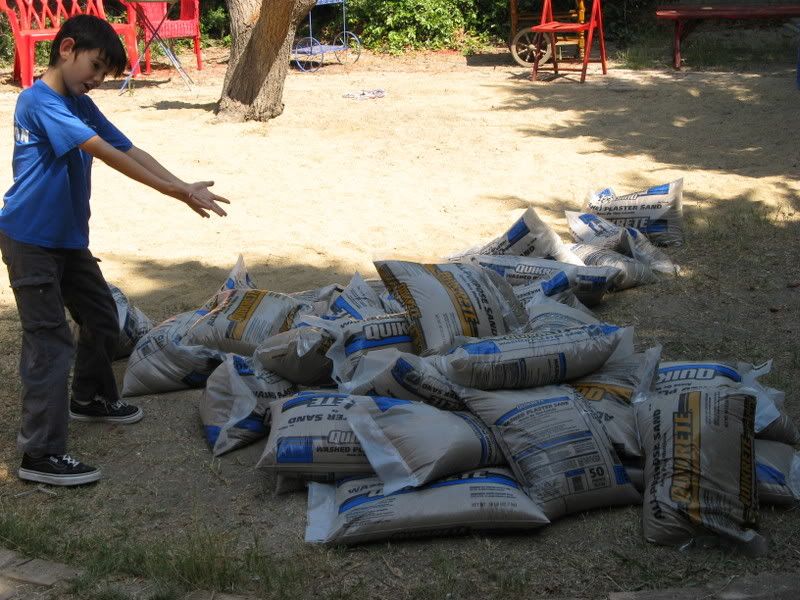 Step 4 Stare at the sand with friends ---Thinking --we need more sand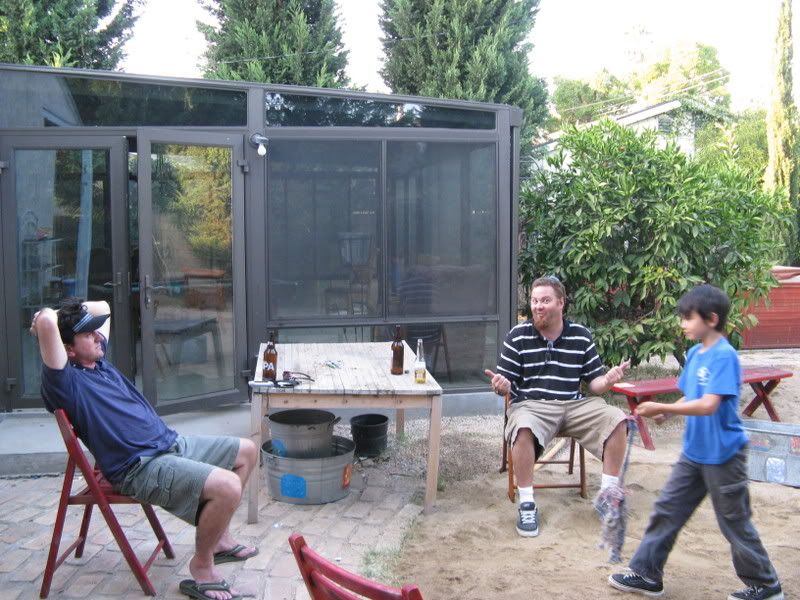 Step 5 Lumberjacking while wearing a fake Beard (of course) with help from Al Chowen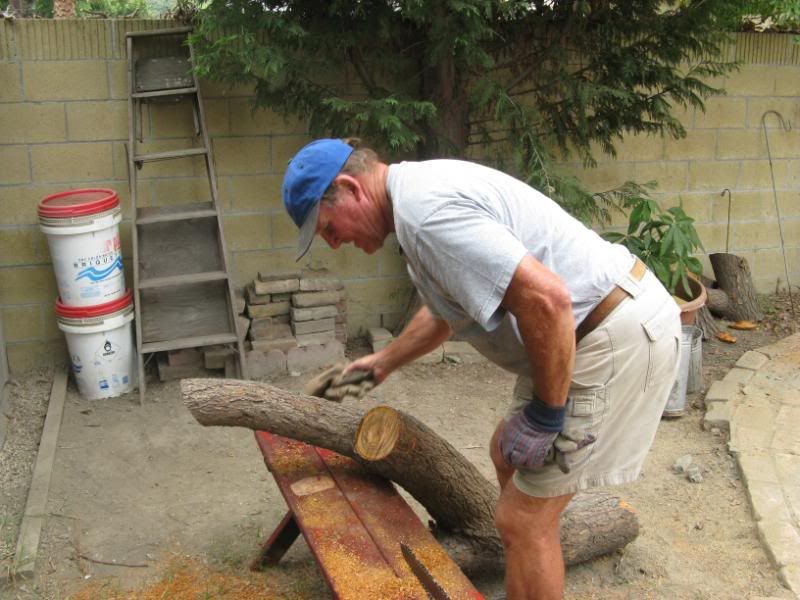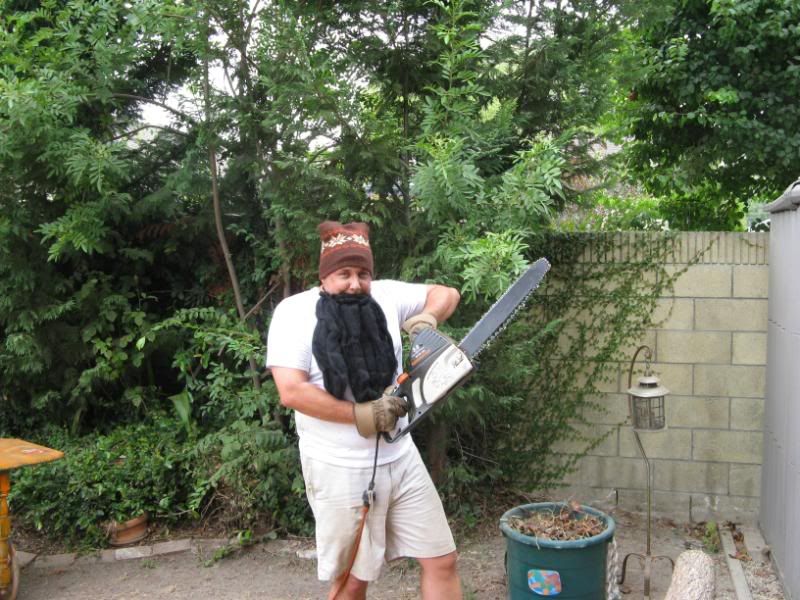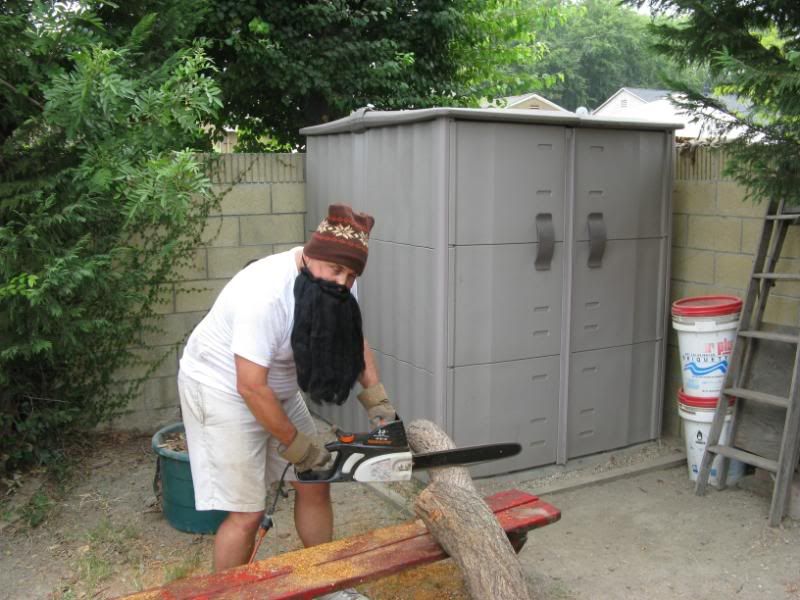 Step 6 MORE SAND –and going crazy buying Hundreds of dollars worth of random Tiki and Beach stuff-----tons of food and hanging out with the Green Girls (of course)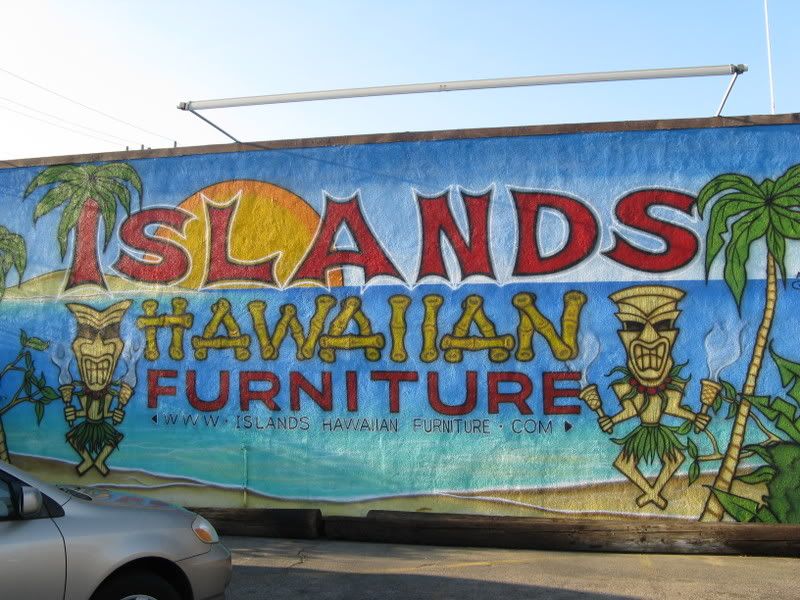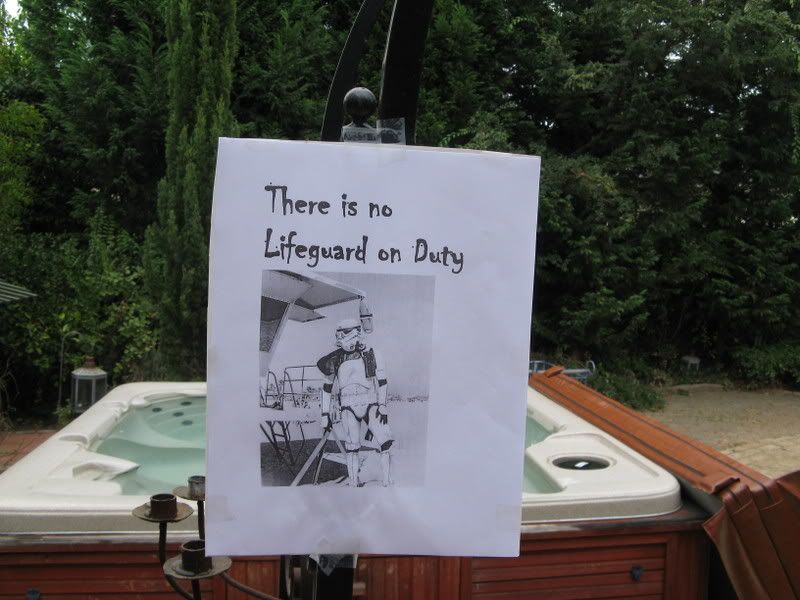 Foreshadowing Perhaps?????
A Homage to the Pineappleman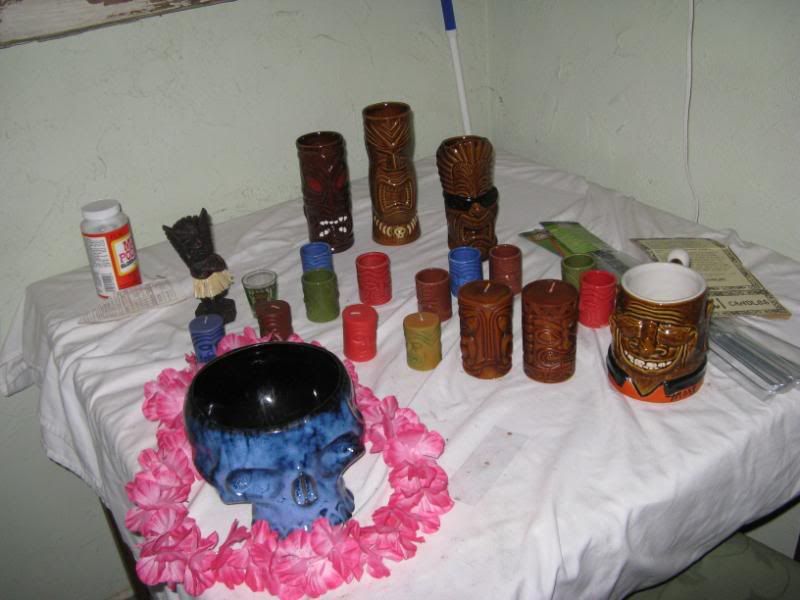 Step 7 Pre-party---Setup Party Supplies --a break for a little cannibalism—Tap that Keg (This beach looks kick ass –all the girls will want us now)
"Keg Buying Keg Buying Who is the next to go?"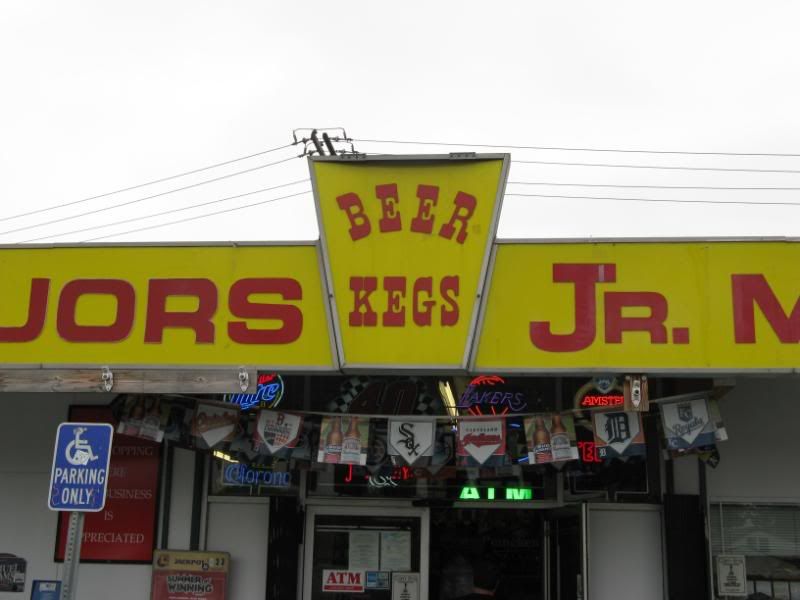 More Rum ---I feel like a Pirate --we bought so much rum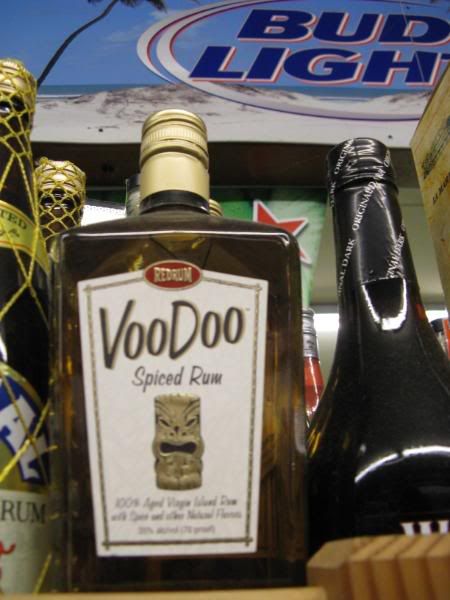 A little Canibalism break at Party Store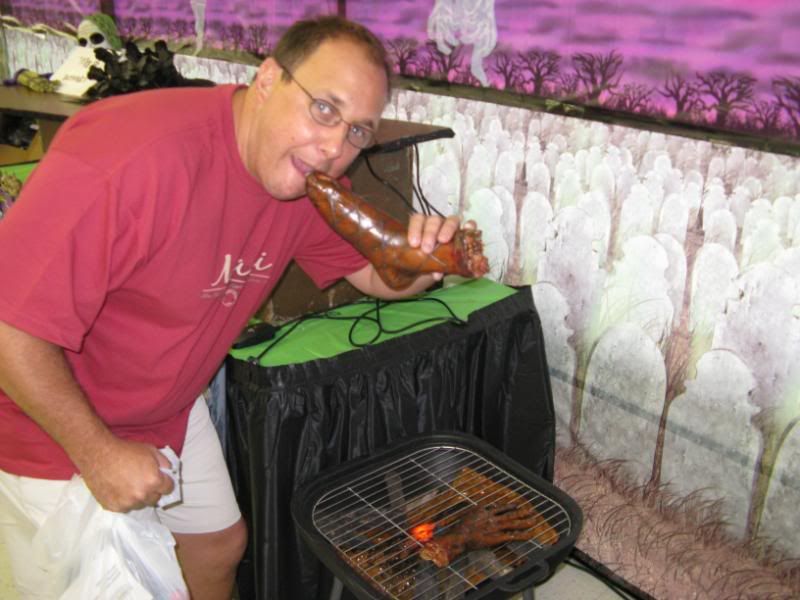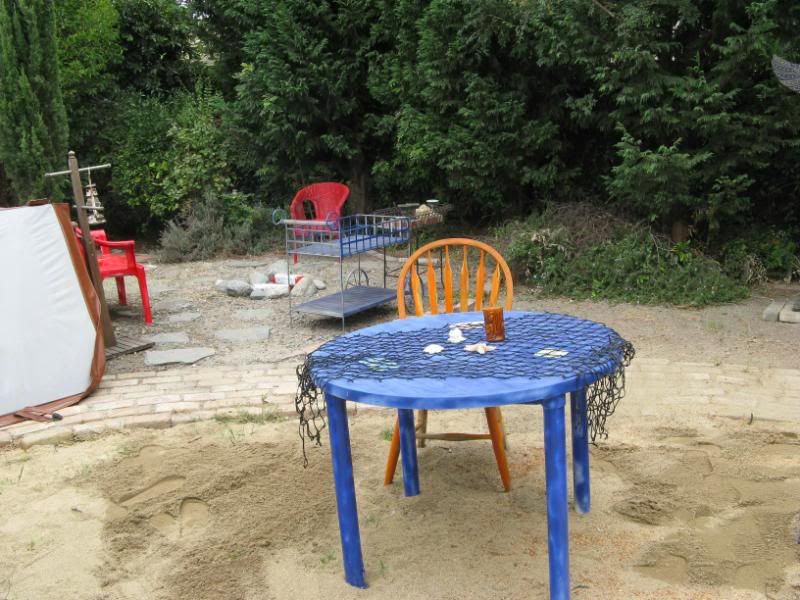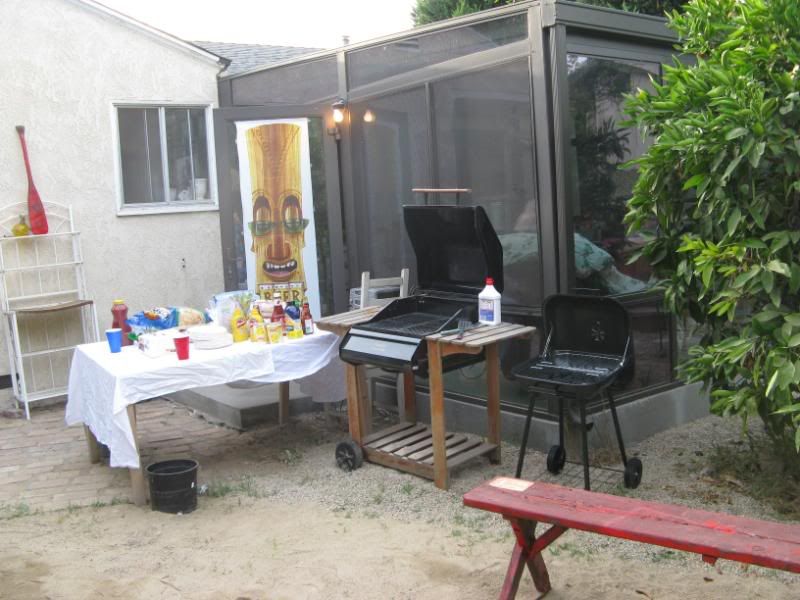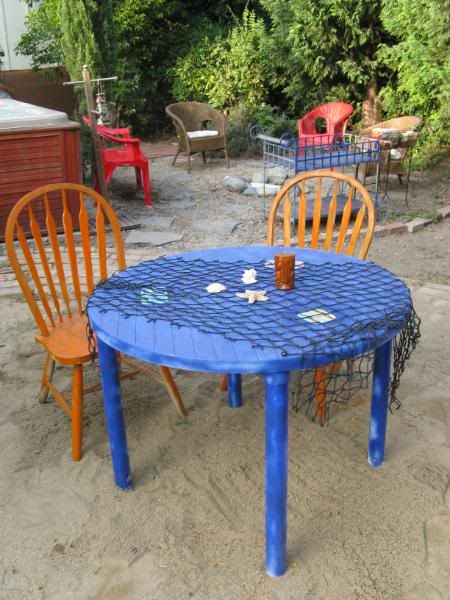 Step 8 The Wait :: Chilling with the Dunn boys while waiting for people to show up—doing improv Karokee to instrumental surf music… Eric's zombie song rocked……(If the Dunn brothers are not available please use your own friends)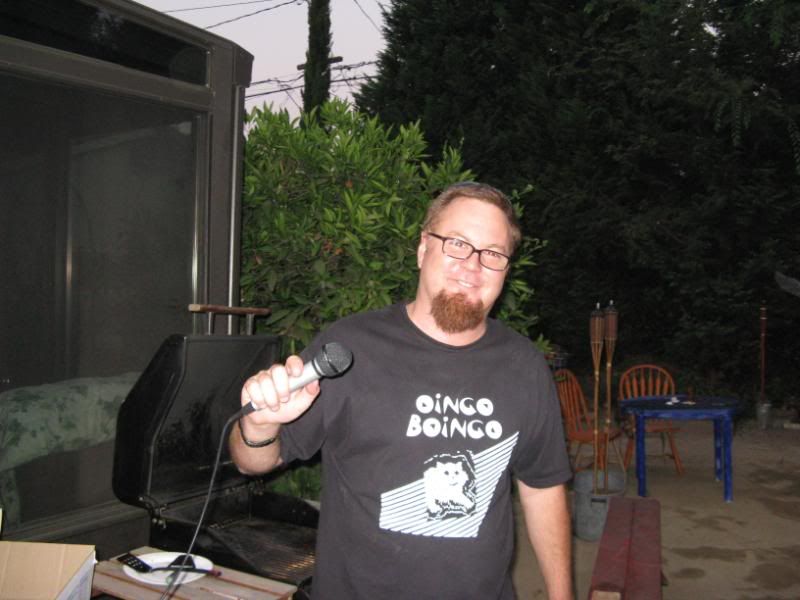 P.S. Leftovers Sunday early evening drop by and help polish off the keg and some of the food
Backyard Beach Party Bash 2008 or "Go where?" , Ass Raccoons and old Friends" Part 2 The Party